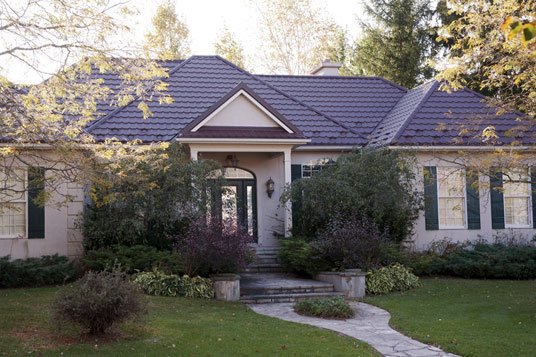 Why should I consider a new metal roof for my home?
Metal roofing has now entered the mainstream and has become a viable option for nearly all homes, except those with very flat roof pitches. Nor do all metal roofs scream "metal." There are now shingle-style metal roofing products that are almost indistinguishable from traditional asphalt shingle roofs. If you are looking for information about whether or not you should consider a new metal roof for your home, then you have come to the right place. At Metal Roofing Solutions, we are focused on finding the right solution for your home. In this blog, we share some information about whether or not you should consider a new metal roof for your home. 
Click here to begin your free online quote with Metal Roofing Solutions. 
Metal roofing is not just a novelty  
Once, metal roofing was found only on high-end, architect-designed homes. That's no longer true. Metal roofing is increasingly found in conventional houses, thanks to increasing availability and improved manufacturing processes. According to industry statistics, market share for metal roofing has been increasing at a rate of roughly 3 percent each year over the past few years; currently, about 15 percent of all roofing installations use metal roofing materials. At the same time, the market share for asphalt shingle roofing has fallen, now accounting for about 59 percent of the total roofing installed.
Metal roofing can be installed over your existing roof 
Metal roofs can be installed over your existing roof without tearing off shingles, provided local building codes allow it. While shingle removal is the preferred route, tear-off is messy and raises the cost of the job. A potential problem with this type of installation is trapped water vapor. If trapped between the metal roofing and old roofing, moisture can build up and cause mold and rot. But roofers can install a vented metal roof that eliminates this potential problem. 
Metal roofs do not make any more noise than asphalt roofs
Although it's a common misconception that metal roofs are noisy when rain or hail falls on them, the reality is that when properly installed, metal roofing is no noisier than any other type. Metal roofing is typically installed over a solid substrate. Additionally, the attic and insulation provide a sound barrier. From interior living spaces, inhabitants rarely notice any increase in sound levels when a metal roof is installed. 
Metal roofing is impervious to fire, rot, and insect damage 
One of the principal reasons metal roofing has exploded in popularity is that it is virtually fireproof. With the dangers of wildfire on the rise, metal roofing has become the roofing material of choice in many parts of the country. And not only that:
Insects such as termites can never eat metal roofing.

Metal roofing is impervious to rot and mildew.

Since it conducts heat quickly from the sun, snow slides off more quickly than with conventional roofing.
Metal Roofing Solutions is a distributor of high-end metal roofing material and installations. If you are still wondering if you should consider a new metal roof for your home in Whitby, Ajax, or the surrounding areas, then we encourage you to continue browsing through our website.   
Click here to find our contact information or speak with a representative.