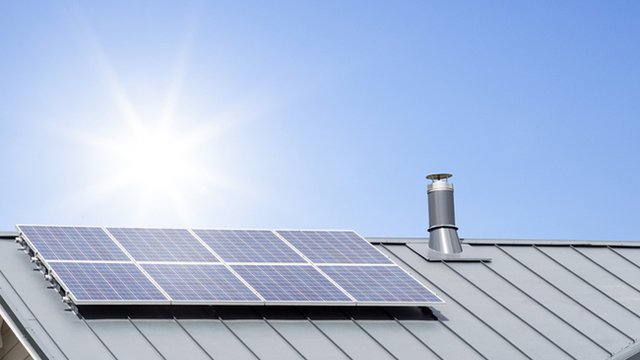 Can you install solar panels onto a metal roof?
Metal roofs are light, durable, and often made of eco-friendly recycled materials, so it's no wonder that installing solar on metal roofs is an increasingly popular topic among homeowners. If you fall into this category, the good news is that metal is one of the best roof materials for solar panels. Ease of installation, durability, and environmental benefits are just three of the reasons to consider putting solar panels on a metal roof. But what about the solar panels on your current roof or if you want to install solar panels on your new metal roof? Can it be done? Metal Roofing Solutions is here to tell you that yes it can be done, and if you continue reading this blog, we'll tell you how. 
Installing solar panels onto your metal roof 
Typically, your solar installer will drill holes in your roof so that they can attach the mounting for your solar panels. This is one of the main areas of concern for many homeowners considering solar, as an improperly mounted solar panel system can cause leaks or other roof issues. Most qualified solar installers offer workmanship warranties and roof warranties to reassure their customers that there will be no issues with the installation. If you have a metal roof, however, your solar installer likely won't need to make any holes in your roof at all, which virtually eliminates the possibility of issues down the road.
Metal roofs can actually outlive your solar panels
Solar panels are extremely durable and can last for 25 to 30 years, which is part of what makes them such a great investment for your home. However, in many cases, this means that your solar panels can outlive your roof, which can result in an added expense. If your roof is aging, you have to replace it before installing solar panels, or incur the additional cost of removing and reinstalling your panels when the time comes to replace your roof. Metal roofs, on the other hand, are the most durable conventional roofing material available. If you have a metal roof on your home, it will likely last longer than the lifespan of your solar panels, which reduces expense and hassle in the long term.
Solar panels can maximize the cooling effects of a metal roof 
Home Builders and contractors often tout the benefits of cool metal roofing (e.g. metal roofs coated with reflective paint) to keep your home cool in the summer and reduce your energy use. Metal roofs reflect more sunlight than traditional black asphalt shingles, and some also have reflective paint to increase this effect. Installing PV solar panels can take your electric bill savings a step further simply by shading the roof's surface.
The combination of solar panels and metal roofs make for an eco-friendly home
If you want to make your home truly eco-friendly, metal roofing and solar panels are two of the best ways to do it. Installing a cool metal roof can help you earn points through green building certification programs like ENERGY STAR, which encourages home renewable energy options like solar panels. As an added environmental benefit, unlike many other options, both solar panels and metal roofing materials are recyclable at the end of their lifespan.
Putting solar panels onto your roof is a great idea in many ways. Metal Roofing Solutions is here to tell you that you can instal your solar panels onto your new metal roof with ease! For more information about our metal roof installation services, we encourage you to continue browsing through our website. Click here to find our contact information or to speak with a representative.